Our tips for delicious waffles
Whether you prefer the juicy Belgian waffle or the classic German heart waffle is up to you or rather your waffle iron. To make sure that your hot waffles are a success, you will find some helpful tips and tricks for baking waffles.
The best flour for juicy waffles
The most suitable are baking-strength wheat flours (404 or 550 for classic waffles. This makes them nice and fluffy, which is especially important for Belgian waffles. If you use a normal waffle iron, the baking strength of the flour is not quite so crucial, which is why you can let off steam here and experiment with other types of flour such as spelt flour.
The right consistency of your waffle batter
Your waffle batter should be smooth and runny so that it melts in the waffle iron in the best possible way and you get beautiful waffles. How thin your batter is will determine the consistency of the finished waffles later. Thinner doughs are perfect for all fans of crispy waffles. For this, simply replace half of the milk with mineral water. Thanks to its liquid consistency and carbonic acid, your waffles will be extra crispy.
Fans of soft waffles (like us) do not need to adjust the recipe, but simply make the waffles a little shorter in baking. Important: Please make sure that the dough is baked through and always use fresh eggs to reduce the risk of salmonella.
Do you have to let wafer batter rest?
A normal wafer batter relies on baking powder / baking soda as a leavening agent and therefore does not require a resting time. However, if you want to make classic Belgian waffles, you should go for a recipe with yeast. This requires a certain resting time so that the yeast fungi can work and the dough rises in the waffle iron.
How to make waffles nice and fluffy
For extra airy waffles, baking powder is used, which develops its driving effect when heated and makes the dough rise airy-fluffy. If you like it especially fluffy, separate the eggs before mixing, beat the egg whites separately and fold them carefully(!) into the finished wafer batter.
Crispy waffles: This way they always succeed!
For a crispy crust, your waffles need a slightly thinner batter and a hot waffle iron. Simply replace half the amount of milk in the recipe with mineral water and set your waffle iron to a slightly hotter setting. The trapped carbonic acid in the dough expands during baking and ensures a particularly crispy result.
How long is the baking time of waffles in the waffle iron
Somewhere between 2 to 4 minutes is a good guideline. However, the baking time depends greatly on the waffle iron you use, the level you set, your batter, and your preference. As a rule of thumb, golden brown on the outside with a crispy crust.
Can you bake waffles without a waffle iron?
Of course! However, they then have little to do with a waffle. You can put the dough in a non-stick pan and bake it here. The result then resembles a sweet pancake.
The right amount of batter for the waffle iron?
Again, there is no universal answer. A deep waffle iron for Belgian waffles requires significantly more batter than an iron for classic heart waffles. However, always start with a little less batter and work your way up to the right amount for your waffle iron.
Clean the waffle iron properly
Fortunately, almost all modern waffle irons are non-stick and can be wiped clean with a dry paper towel after baking. In some models, the irons can even be removed and conveniently cleaned in the dishwasher.
If any batter runs out of the waffle iron while baking, it is better to wipe it off directly while it is still liquid. Once this is fixed, it can only be removed from the device with difficulty.
When will my waffles be ready?
When you take your waffles out of the waffle iron depends a lot on your personal taste. If you're into extra crispy, leave them in until they've turned a golden brown. Fans of regular waffles leave them in the waffle iron a little shorter and take them out when they have a golden crust. Fans of soft waffles put them in the waffle iron just until they are no longer liquid. With the latter variant, however, you should always go for especially fresh eggs, since the waffle batter inside will still be partially raw.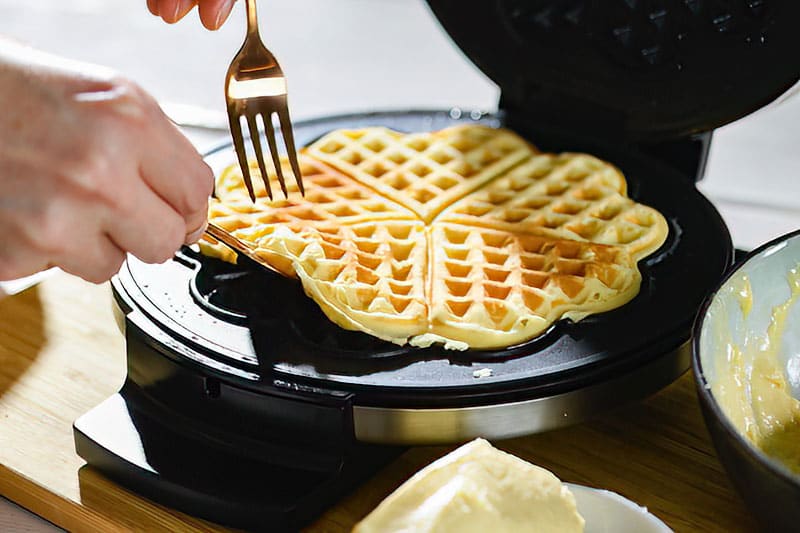 What is the shelf life of wafer batter?
Usually there is no reason to keep raw waffle batter, as it is mixed together and ready to bake in 5 minutes. However, if you ever find yourself in a situation where you need to prepare your dough the day before, take the following tip to heart:
Store your dough in the refrigerator.
Take your dough out of the refrigerator about half an hour before baking so that it becomes liquid again.
Add the baking powder just before baking. Mix it with a little milk (2 parts milk to 1 part baking powder) and stir the mixture into the wafer batter. This works especially well when the dough is already a little warm and liquid again.
The baking powder would otherwise lose much of its leavening power during the long resting period and your waffles would suffer. However, if you keep the finished waffle batter for one night, the batter may separate. If this happens, you'll need to give it another good stir before baking. The finished waffles are usually not as fluffy as with fresh dough.
Can you freeze waffle batter?
You can freeze the raw waffle batter for some time without any problems, but the leavening capacity of the baking powder will also suffer, which is why your waffles will no longer be as fluffy. Therefore, if you know you want to freeze your dough later, you should omit the baking powder and stir it in after it has thawed.
When freezing the dough, make sure you freeze it in an airtight container or freezer bag with as little air in it as possible.
Defrost the frozen waffle batter gently to preserve the delicious taste of your waffles.
Frozen wafer dough can be kept for about 3 months.
So your waffles no longer stick to the waffle iron
Modern waffle irons almost invariably have a non-stick coating to prevent the waffle batter from sticking. However, anyone who has ever baked waffles knows that it almost never works without sticking.
Therefore, brush your waffle iron with a little butter or neutral (e.g. sunflower oil) fat before baking. This will allow your waffles to come off the iron with ease.
The right grease to grease the waffle iron
Personally, I find that a little butter enhances the flavor of the waffles best. However, if you prefer a more neutral fat, I recommend using sunflower or canola oil.
To grease the iron, use a small brush to get into the fine crevices, as this is where the dough likes to stick.
Properly store finished waffles
You know it! The eye was once again bigger than the stomach and there are still tens of finished waffles on the plate. However, you can easily store them and refresh them in a flash.
If you want to keep your finished waffles a little longer, you should let them cool and then store them in an airtight container in the refrigerator. Here they keep up to 5 days. Baking paper between each waffle prevents them from sticking together. In the freezer, the little treats even last up to 3 months.
To serve, you can either bake them again in the oven at 140 °C top-bottom heat or 120 °C convection oven for 5 to 10 minutes or put them again briefly in the waffle iron. The latter definitely provides a crispier result and makes your waffles taste as if they were freshly baked.
How to keep delicious waffles warm properly
If you only want to take a short break or wait until everyone has eaten their portion, you can easily store it temporarily in the oven at 50 to 60 °C. This will keep your waffles warm and retain their delicious crust. However, make sure you don't stack them on top of each other, but place them individually on a grate.
Creative and delicious waffle recipes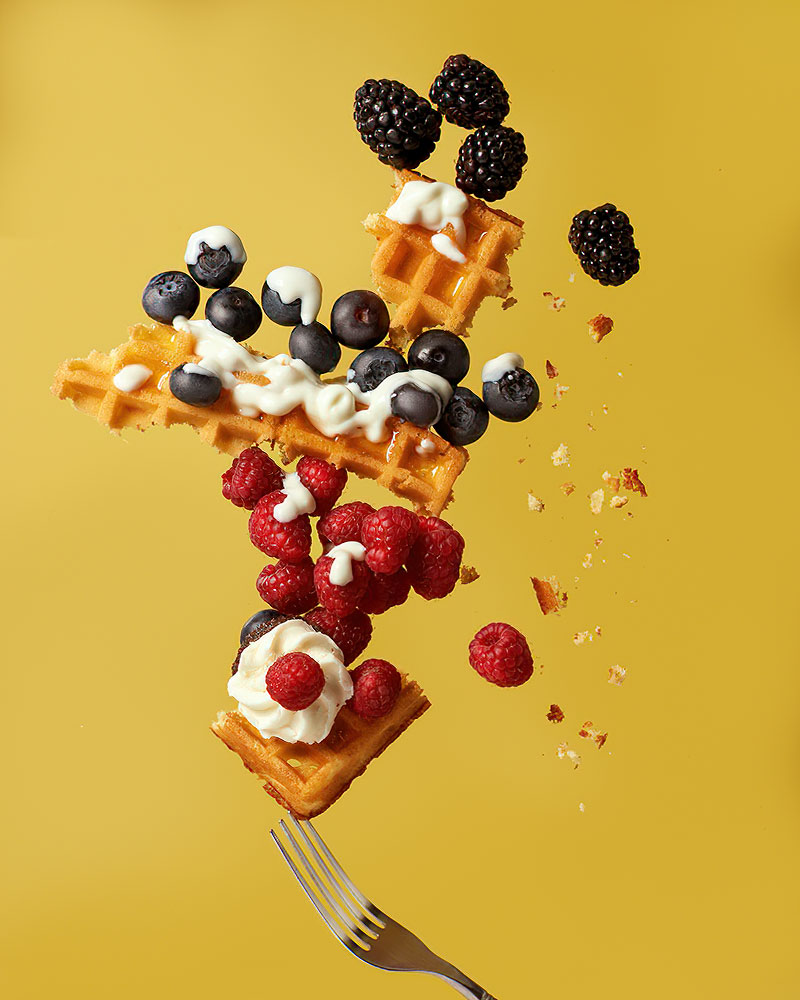 Delicious toppings for simple waffles
There's nothing wrong with the classics like powdered sugar, whipped cream and vanilla ice cream! But a little variety is also good for eating waffles. For that reason, here's a list of delicious topping ideas for your next waffle night:
hot cherries or raspberries
fresh fruit (especially berries)
homemade berry compote
Nutella
Egg liqueur
Peanut butter
Honey or maple syrup
Banana with chocolate sauce
caramelized pears / apples
Chocolate nut
The difference from Belgian waffles
Belgian waffles differ from the German classics in two main ways. The most striking difference is their shape. Belgian waffles are baked in a different iron, which is why they are significantly thicker. A Belgian waffle iron has deeper wells that provide crispier results. Also, the cavities are great for filling with lots of toppings (cream, chocolate, eggnog, etc.).
On the other hand, Belgian waffles traditionally consist of a yeast dough that must rest in the refrigerator for one night. The advantage: the yeast dough rises during baking and fills the entire shape of the waffle iron. In addition, the waffles get a special flavor from the yeast.
You can also bake your plain waffle batter with baking powder in a Belgian waffle iron. In order for it to fill the entire mold in the best possible way, you must turn the iron in any case, otherwise the dough will not rise enough. For yeast dough, it is also recommended to turn the iron, but it is not always necessary.