Soft or crunchy: the best chocolate chip cookies
Whether you like chocolate chip cookies warm or cold, soft or crispy, divides minds. The important thing is that you like your cookies. If you like them more crispy and crumbly, you should leave them in the oven a little longer and let them air cool. This gives them a light brown crust and a rather crumbly texture.
If you prefer your cookies more soft and moist, leave them in the oven for only about 10 minutes and don't let them cool completely before placing them in airtight tins or jars. However, when doing this, make sure to separate your cookies with some baking paper so you can get them out easier later. Without the paper, the delicious chocolate chip cookies would stick together.
How long did Chocolate Chip Cookies last?
Your homemade cookies will keep in a sealable cookie jar or jars for about two weeks. If you like your cookies soft and moist, you should store them in airtight jars so they don't lose their moisture. To do this, simply stack the cookies while they are still lukewarm and separated with baking paper in as small a jar as possible. This way they stay juicy and do not stick together due to the baking paper.
American cookies: don't forget to chill your dough!
Cookie dough is particularly susceptible to warm temperatures due to the large amount of butter and becomes extremely soft and sticky when made. Thus, it is difficult to portion on the baking sheet and quickly causes despair for many amateur bakers.
By chilling your dough in the refrigerator for an hour (or two) after making it, the butter will harden again and the cookie dough will be much easier to work with.
Properly portion the cookie dough.
The best way to do this is with an ice cream scoop, like the ones you see in ice cream parlors. If you don't have one on hand, use a tablespoon. When doing this, make sure you leave enough space between each ball of dough on the tray. The heat in the oven softens the butter in the cookie dough and the cookies run wide. If you don't space them enough, your cookies will combine into one big patty of dough. But don't worry, you can easily separate your cookies after baking using a pastry scraper or knife should they touch.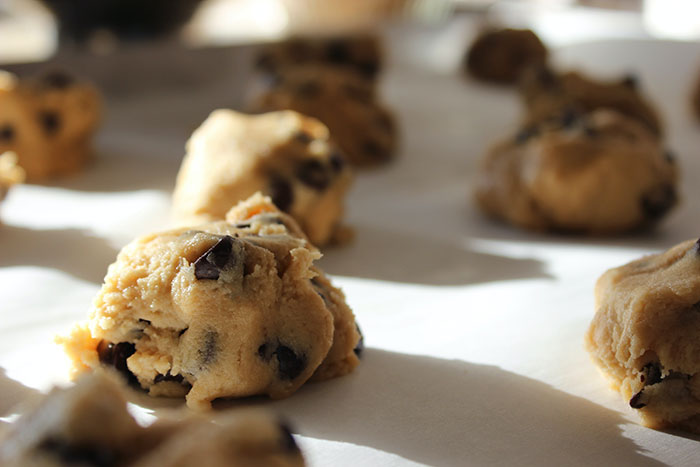 What chocolate for the chocolate chip cookies
Without chocolate no chocolate chip cookies – logical! However, which chocolate you take is up to you and does not follow any strict rule. Personally, I like dark chocolate for my cookies the best. But you can also make these delicious American cookies with milk and white chocolate in just 10-12 minutes. Experimentation pays off!