What varieties are suitable for the baked apples?
For baked apples are particularly suitable sweet and sour varieties with firm flesh. However, the hot apples can be prepared with almost any variety of apples. The right apple variety has a significant impact on the flavor of your baked apple.
The most popular varieties of apples for baked apples are:
When will my baked apple be ready?
Depending on how soft you like your apple, you can vary the baking time of your baked apples. The longer you leave them in the oven, the softer the flesh will be. If you prefer your apples a little more al dente, take them out of the oven a few minutes earlier.
To find out how soft your apples are, a toothpick will help. Pierce it through the skin into the flesh of the fruit. If it just slides through the skin and into the flesh, your apples will be soft. If you feel a slight resistance, they still have some bite.
How long do baked apples need to be in the oven?
Baked apples are a delicious and healthy treat. Apples are a valuable source of fiber, antioxidants and vitamin A. They are also low in calories and can be eaten as a dessert or as a snack after dinner.
Baking time depends on the type of apple you use, its size, and your preference for how soft you like your baked apples. I recommend baking them between 25 to 35 minutes at 200 °C (180 °C convection / gas mark 3). Thus, the flesh is warm and soft, but still has some bite.
At what temperature must baked apples in the oven?
The correct answer to this question depends mainly on the type of your oven. Conventional ovens with upper-lower heat should be set at 200 °C. If you have a convection oven, turn the temperature down a bit and put your baked apples in the oven at 180 °C. If you have a gas oven, you often can't set the temperature accurately. Level 3 is a good compromise here.
With these settings, your apples will have enough time to soften inside without burning their skin.
What spices for a baked apple
The classic spices for baked apples are vanilla and cinnamon. However, cloves, anise and nutmeg are also great for adding the finishing touches to your baked apple filling. If you prefer to be on the safe side, you can use a pre-made spice mix for baked apples, which you will increasingly find in supermarkets from autumn onwards.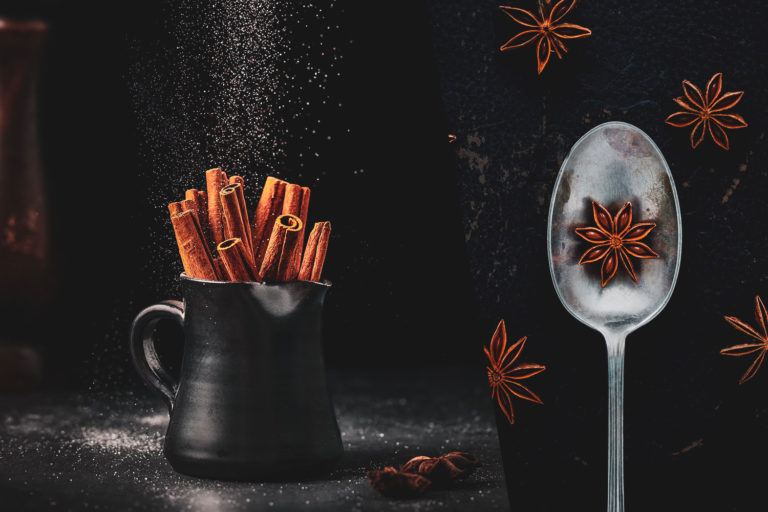 What filling for baked apples?
Traditionally, the delicious apples are filled with a mixture of marzipan, (rum*) raisins and almonds. But here, too, the rule applies: What's allowed is what tastes good. If you don't like raisins, leave them out. If you don't like almonds, replace them with pecans.
If you have a real sweet tooth, you can also add a nougat filling to your apple. To do this, simply chop some nougat with raisins and nuts and fill it into the apple.
A poppy seed filling also harmonizes wonderfully with this winter classic. For this you need only a little poppy seed paste, dried fruit and almonds. Roast the almonds briefly in a pan, chop the dried fruit finely, mix together with the poppy seeds and fill the baked apples with them.
You feel more like something hearty? Then try a blood sausage filling for your baked apples. To do this, chop up some black pudding, a small onion, a clove of garlic and some white bread, then mix and pour the mixture into the cut-out apples.
The preparation time does not change due to the filling used. Only the size of your apples will affect how long they need to bake.
What is the best way to hollow the apples?
To remove the core, an apple corer is suitable. This is pierced from the stem base through the complete apple. The core remains stuck in the cutter and can be easily removed.
If you don't have a corer, you can use a simple fruit knife and cut out the core by hand. This variant takes a little longer and often also removes too much pulp.
Who invented the classic dessert?
Where the baked apple comes from and when it was first prepared is not documented. It has probably been one of the typical winter desserts for several centuries. But the modern version with marzipan, sugar and cinnamon will be much younger. Until the 19th century, sugar was a real luxury good that only the higher society could afford. It was not until the triumph of the sugar beet that sweet gold became affordable for everyone.
It is believed that the baked apple was originally prepared by the fireplace at home without any spices at all. For this, they put him near the fire.
Honey or jam for the filling?
Whether you make the filling for with honey, maple syrup or jam is up to your own personal taste. Purists prefer honey, as this is the best way to bring out the flavor of the apple. If you like it a little fancier, you can reach for maple syrup. In my opinion, its own flavor goes perfectly with the baked apple and gives it a special touch. Jams, on the other hand, bring a flavor variety all their own and expand the flavor spectrum of your baked apple. Personally, I prefer blueberry jam with a little cinnamon, but then without raisins.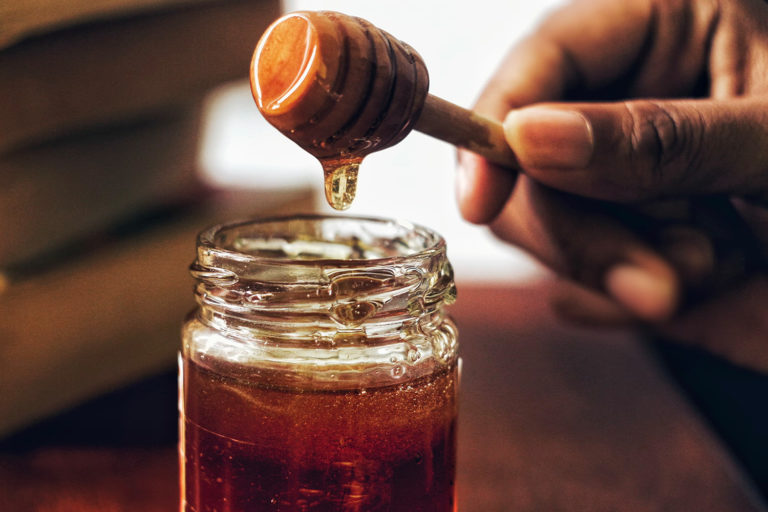 How to eat a baked apple correctly?
Like most desserts, all you need for a soft baked apple is a small spoon – that's it. Use this to scoop out the pulp and filling from the apple skin.
Bite-sized baked apples are eaten with a knife and fork instead. Whether you eat the shell with it or not is up to you.
Which wine goes with the baked apple?
A classic baked apple is a real flavor bomb of cinnamon, nuts and marzipan. Here it needs a wine that can keep up with these strong flavors. A dry wine is almost always ruled out for this. Noble sweet dessert wines are much better suited. My personal recommendation would be a Riesling Auslese (Rheingau or Mosel), noble sweet Gewürztraminer or even an aged Tokaj.
These wines bring the necessary power and substance to stand up to the intense aromas of baked apple.
What goes with baked apple?
Your delicious baked apples are best enjoyed without any garnishes. The little flavor bombs are so intense that they dominate almost everything. I wouldn't offer more than a small scoop of vanilla ice cream or a vanilla sauce to complement the flavor.
However, hearty versions with black pudding, cottage cheese and co are excellent as a side dish to meat dishes such as duck or goose.