The world of white wine varieties is diverse. No wonder, because worldwide there are about 16,000 different grape varieties, of which about 2500 are approved for wine production. From light and fruity Pinot Gris to heavy white wines aged in small wooden barrels, such as Chardonnay, there is something for every taste. But what are actually the most popular grape varieties for the production of white wine?
In this article, I'll briefly introduce you to the ten most popular and important white wine varieties and give you a little insight into their main growing regions and what to expect in the glass. So if you are interested in white wine and want to deepen your knowledge about it, then you are at the right place. If you are interested in the most popular red grape varieties, you can find them in our other article.
Chardonnay – Not for ABC drinkers
Chardonnay is the most widespread white wine in the world. It is planted in nearly every wine-producing country, including the United States, France, Italy, Australia, Canada and Chile. With its fruity aroma and versatility, it is not only highly appreciated by wine connoisseurs, but thanks to its rather mild acidity, it is also popular among those who only enjoy a glass of wine from time to time. In addition, Chardonnay is one of the few white wine varieties that can benefit from aging in small wooden barrels.
Aromas: honeydew melon, ripe apples, orange peel, butter, vanilla, exotic fruits.
Regions: France (Burgundy), USA (California), Australia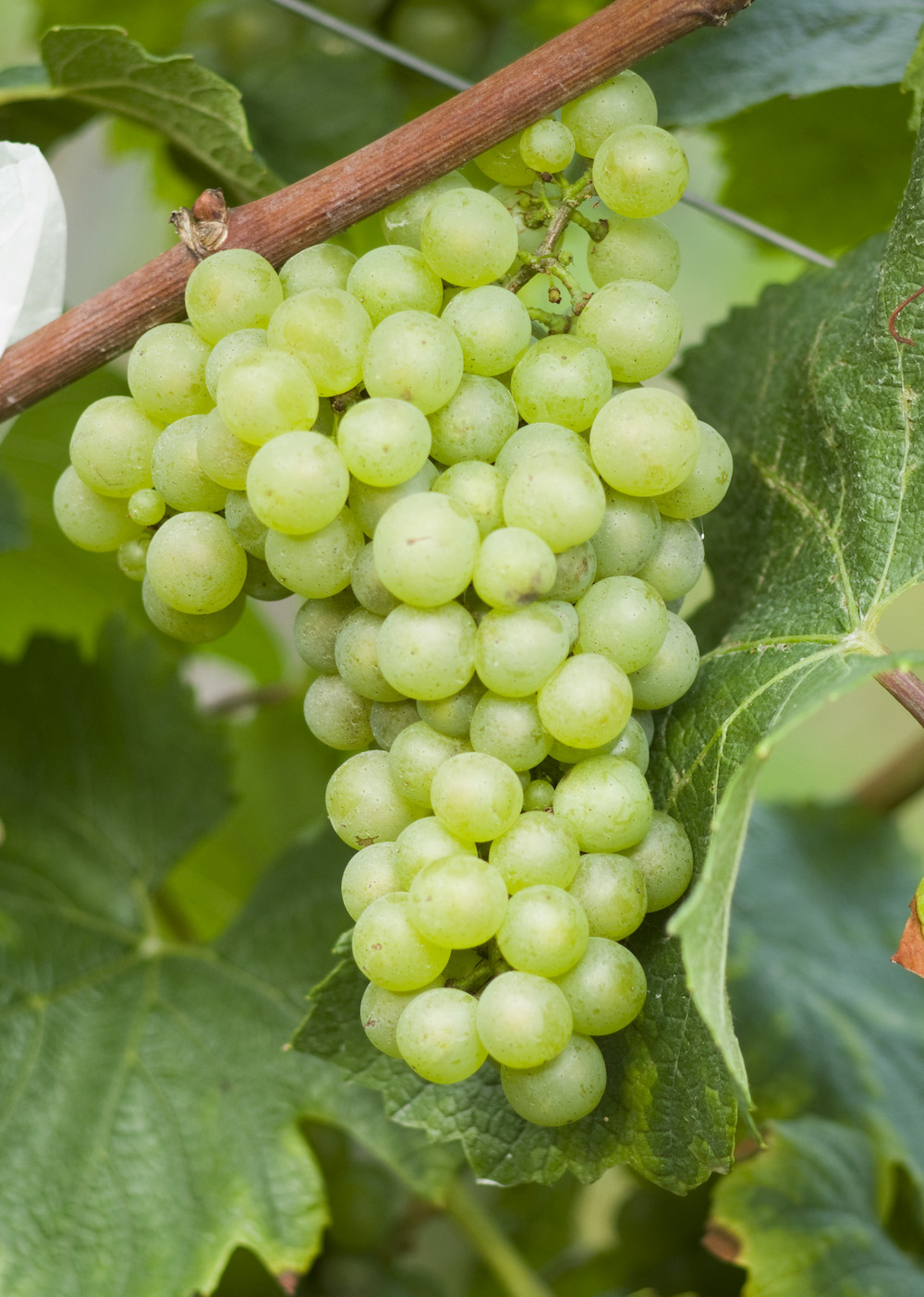 Sauvignon Blanc – favorite of gastronomy
Sauvignon Blanc is one of the most important grape varieties for gastronomy and is mainly grown in the Loire Valley of France and in New Zealand. Sauvignon Blanc is best known for its crisp acidity and light aroma, often reminiscent of tomato greens or green peppers, but also ripe gooseberries. In Bordeaux, Sauvignon Blanc, together with Sémillon, is the basis for the luxurious Sauternes, a noble sweet wine made from grapes infected with the noble mold Botrytis cinerea.
Aromas: tomato greens, green peppers, currants, gooseberries, citrus fruits
Regions: France (Val de Loire, Sauternes), New Zealand (Marlborough).
Pinot Gris – The gray mutant
In Germany, Pinot Gris is mainly known as Grauburgunder, while in Italy it is called Pinot Griggio. It is a mutation of the Pinot Noir. It has dark grapes but they do not contain enough pigment to make red wine. When ripe, the berries take on a pinkish-gray color, which has given the grape variety its name. Pinot Gris is mainly known for light and fruity summer wines.
Aromas: citrus, honeydew melon, tropical fruit, nuts, ripe banana
Regions: Germany (Baden), Australia (Tasmania), France (Alsace), Italy (Friuli).
Riesling – Queen of white wines
Among wine connoisseurs, Riesling is considered the "queen of white grape varieties" and for many it is one of the most exciting white wine varieties in the world. Originating from Germany, the variety is extremely multifaceted and is known for its citrus aroma. It comes in all qualities, from simple everyday wines to luxurious, noble sweet Trockenbeerenauslesen. The latter have a particularly long storage potential and can easily age for over 100 years. German wine culture without the Riesling and its fruity aroma is unthinkable. After all, it is the most popular white wine in Germany. Most often finds it as dry white wines with an alcohol gelat of 12.5%.
Aromas: citrus, peach, apricot, wet slate, pineapple
Regions: Germany (Moselle, Rheingau), France (Alsace)
Airén – The unknown from Spain
Airén is the most cultivated white grape variety, although you've probably never heard of it. This is mainly due to the fact that the variety is almost not suitable for the production of quality wines and it is grown exclusively in Spain. His wines are characterized by a neutral aroma, yet have an unusually high alcohol content for white wine. For this reason, wines from Airén are used almost exclusively for the distillation of Spanish brandy*.
Aromas: lemon, green apples, straw
Regions: Spain (La Mancha)
Chenin Blanc – South Africa's favorite
Chenin Blanc has been cultivated in the Loire Valley of France since the 9th century and is considered an important grape variety for outstanding white wines. From the region of Anjou in France come some of the world's best wines from this white wine variety. In the meantime, however, its main cultivation area is in South Africa. For some wine lovers, Chenin Blanc is the most delicious of all white wine varieties. This is probably due in no small part to the incredible versatility of the grape variety. From light white wines to noble sweet dessert wines, almost everything is pressed from their grapes.
Aromas: quince, apples, pears, honey
Regions: France (Val de Loire), South Africa (Paarl, Swardland)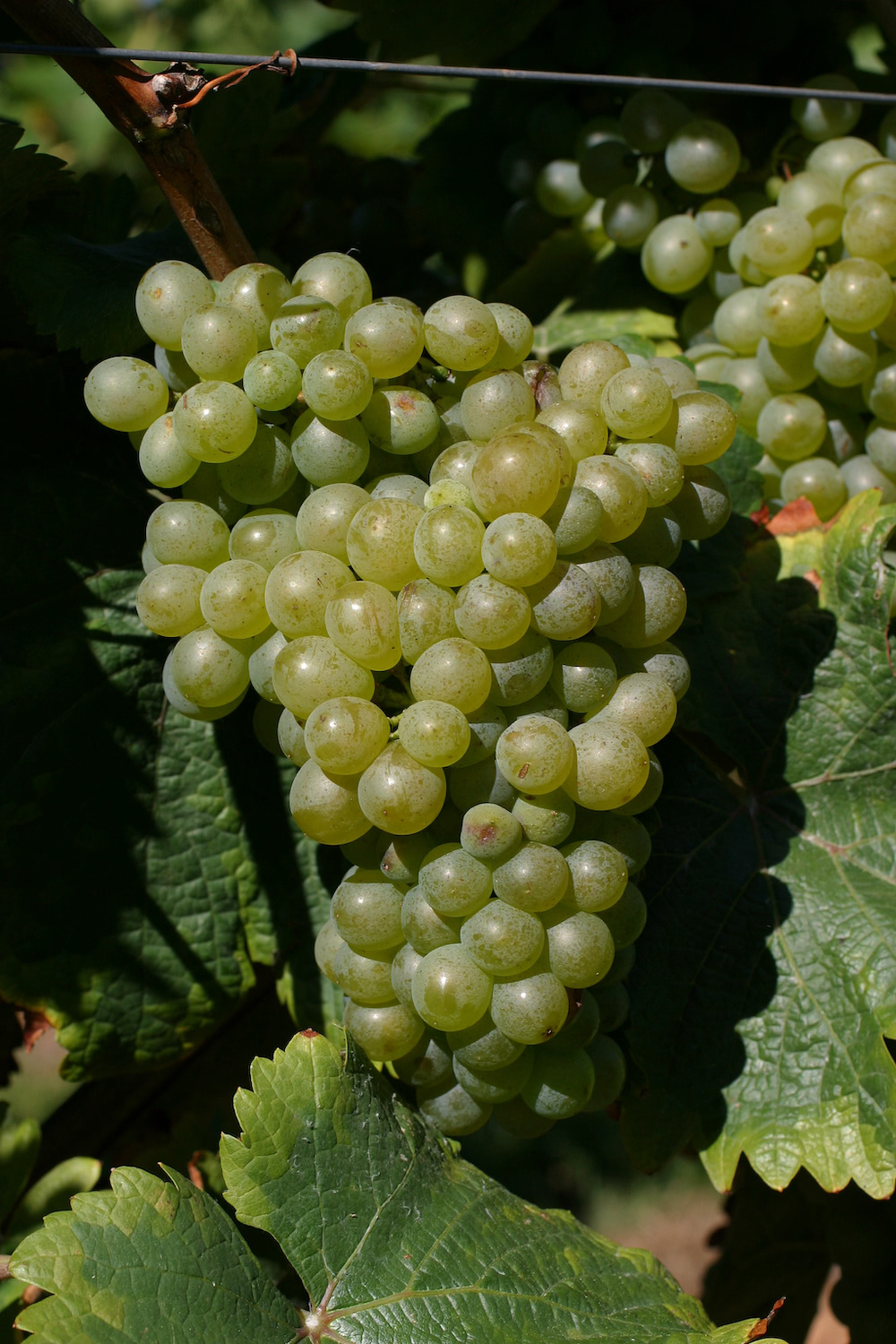 Gewürztraminer – A firework of aromas
Gewürztraminer is one of the most intense bouquet varieties. However, where the vine comes from is an unsolved mystery. Today it is believed that the variety originated in Eastern Europe or even Egypt. However, its traditional home is found in the region around Tramin (South Tyrol), where the variety got its name. As the name suggests, the grape variety has a particularly spicy aroma.
Aromas: roses, lychees, nutmeg, ginger, honey
Regions: France (Alsace), USA (California, Oregon), Germany (Palatinate)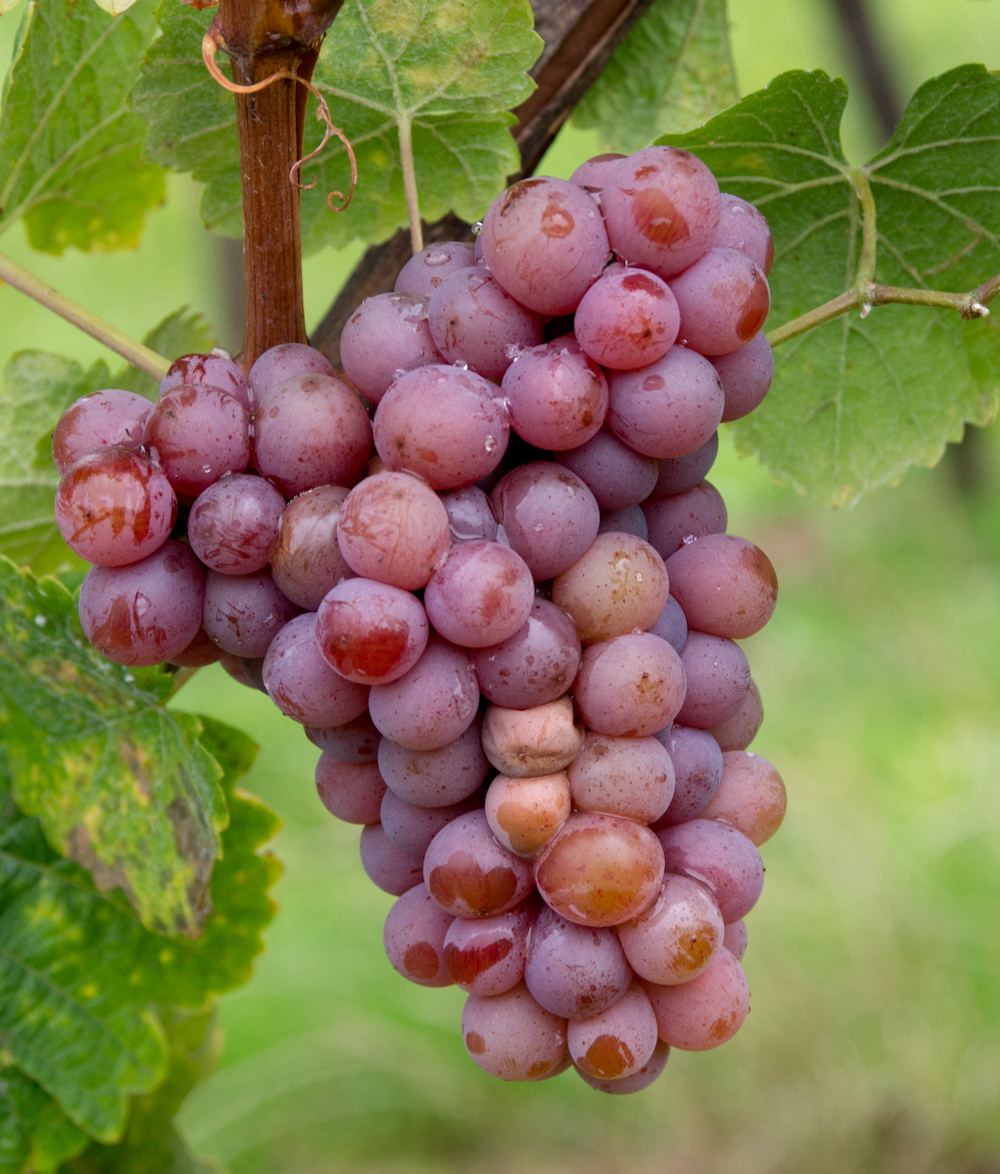 Pinot Blanc – The fresh among Burgundy varieties
The lightest berried representative of the Burgundy family is the Pinot Blanc, as the grape variety is also called in Germany. As with Pinot Gris, it is a mutation of Pinot Noir. Unlike Pinot Gris, however, both genes responsible for the red color are deactivated in it, which is why it belongs to the white grape varieties. Although the grape variety originated in France, it is now grown much more frequently in Germany and Italy (Pino Bianco). Wines made from Pinot Blanc are almost always dry, have an animating acidity and are rather restrained on the nose, with fruity notes of pears, citrus and unripe peaches. The fruit notes are often joined by floral and mineral hints.
Aromas: apricot, pears, apples, almonds, white flowers
Regions: Germany (Baden, Rheinhessen, Palatinate), Italy
Grüner Veltliner – Austria's national grape variety
Grüner Veltliner is Austria's most important white wine and, along with Blaufränkisch, is considered Austria's national grape variety. It is produced in a variety of styles, including dry wines, sweet wines, sparkling wines and more. Wine drinkers appreciate the intense aroma and crisp acidity on the palate, which give it a particularly fresh appearance. The nose offers aromas of white pepper, star fruit, citrus peel, peaches but also tobacco. A special characteristic of Grüner Veltliner is its versatility as a food companion. From asparagus, to fish, to desserts: there is hardly a dish that a Grüner Veltliner does not go with.
Aromas: white pepper, flints, citrus peel, apples, fresh grass
Regions: Austria (Weinviertel, Kamptal, Wagram, Kremstal)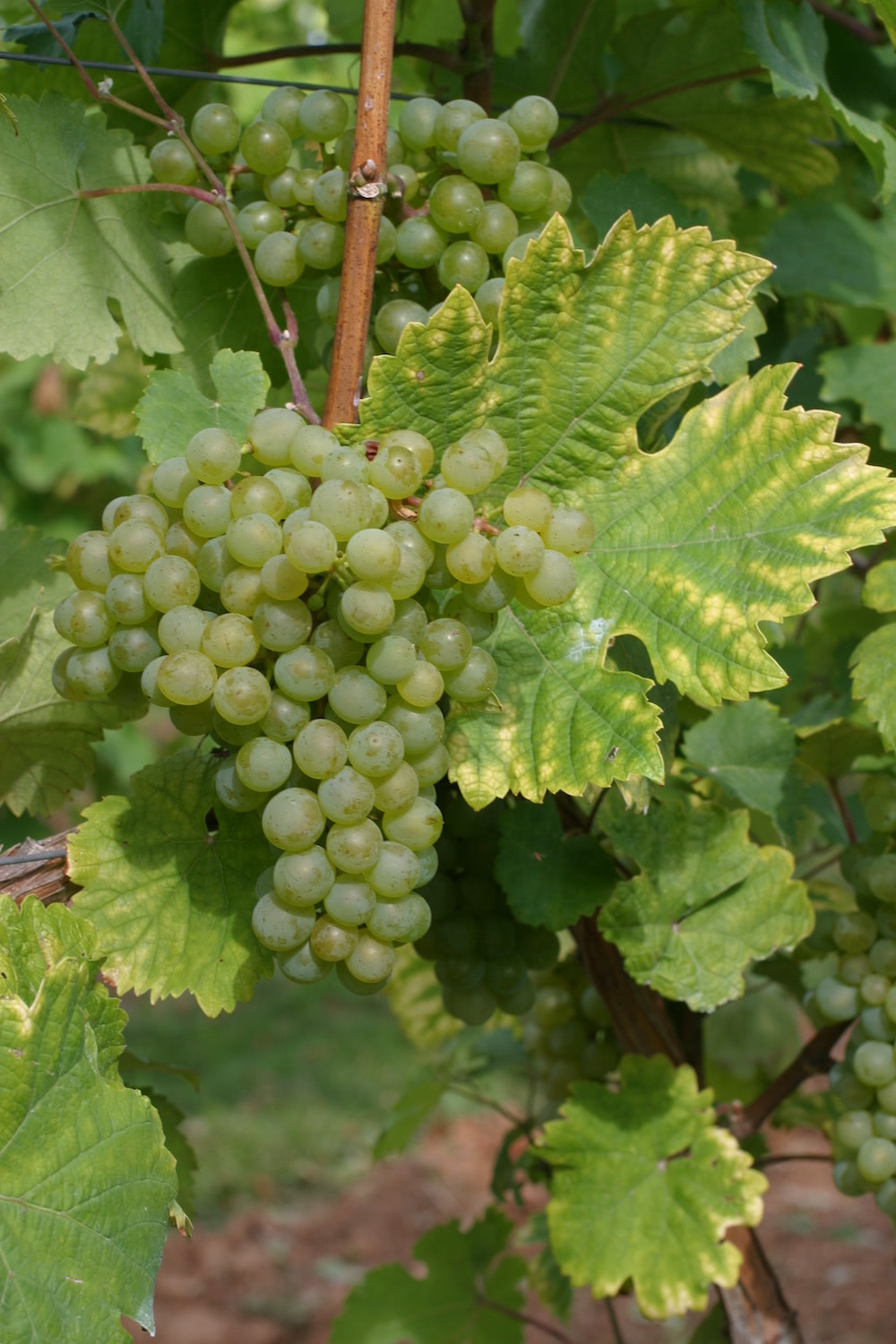 Alvarinho / Albariño – The "white from the Rhine
Alvarinho is a white grape variety grown mainly in Spain and Portugal. It is known as a dry, low-alcohol white wine with a fruity taste. The most important characteristic of Alvarinho is its high acidity. Translated into German, its name means something like "the white from the Rhine", which is why for a long time it was assumed that Alvarinho was actually Riesling. In fact, the wines of both grape varieties have unmistakable similarities. Even though DNA analysis shows a closer relationship with Malvasia Fina, the actual origin and parentage of Alvarinho is still unclear.
Aromas: apricots, peaches, citrus, pears, flowers
Regions: Spain (Rías Baixas), Portugal (Monção, Melgaço).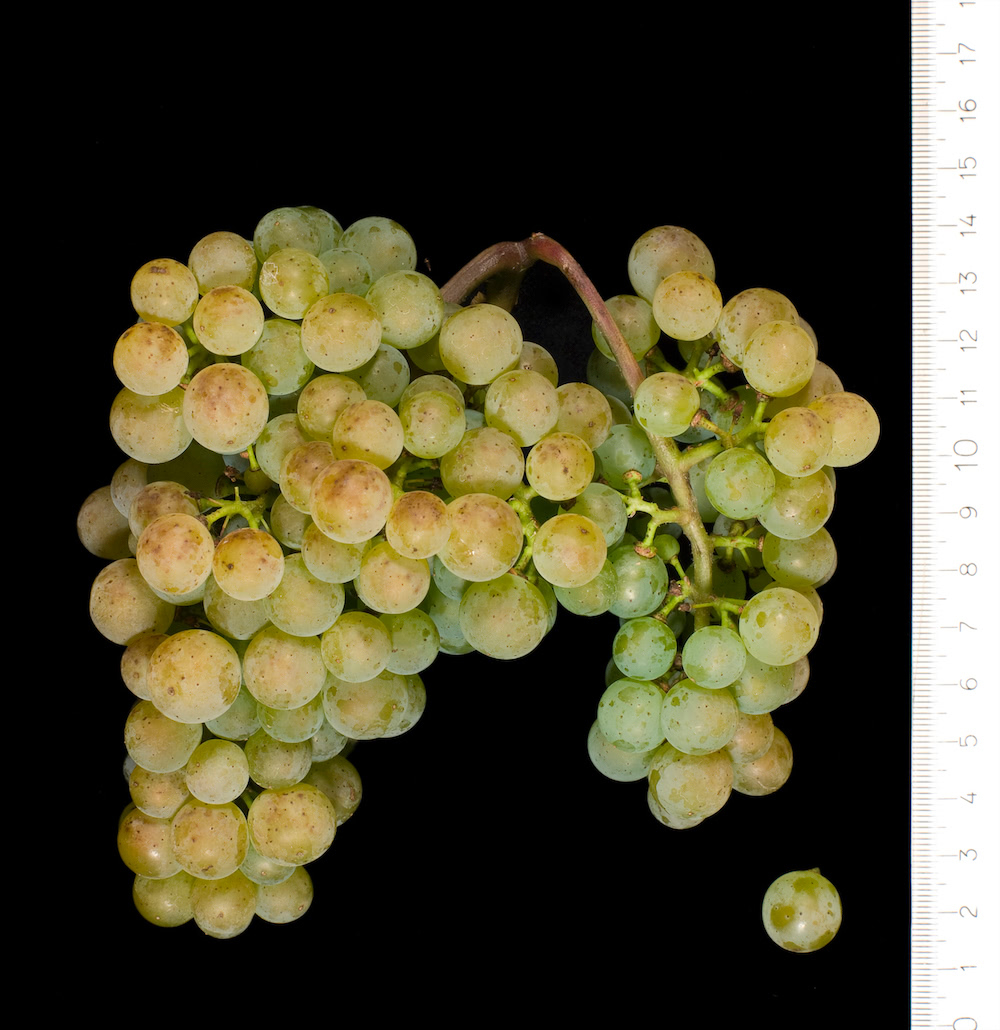 Conclusion
As you can see, the world of white wine varieties is varied and probably even included grape varieties that you have not heard of until today. Of course, this list is not complete, but only gives a small insight into the matter, because of course one would have to include grape varieties such as Silvaner or Müller-Thurgau for Germany. I'm curious if your favorite variety made it onto this list! If not, what is your favorite white wine varietal and why? Or do you prefer red grape varieties in the glass?
Image sources:
Chardonnay: © Julius Kühn-Institut (JKI) / Sauvignon Blanc, Airén, Grüner Veltliner,, Alvarinho, Chenin Blanc: © Doris Schneider, Julius Kühn-Institut (JKI) / Pinot Gris, Pinot Blanc, Riesling, Gewürztraminer: Ursula Brühl, © Julius Kühn-Institut (JKI)