Which wine goes well with pasta? At first glance, the problem seems easy to solve. After all, there are a multitude of ways to combine these two worlds of pleasure. But upon closer inspection, you quickly realize that choosing the right wine to go with your favorite pasta dish is not so simple. One wrong choice can drown out or even eclipse the flavors of the dish.
The solution? A comprehensive guide to help you find the perfect wine for any pasta dish. This article takes you on a culinary journey and shows you how to bring out the flavors of your dish by choosing the right wine. Whether you're a fan of creamy sauces, lovely tomato sauces, or fresh pesto variations, you'll find the wine to match here. Let's find the perfect wine for your next pasta dish and take your culinary experience to the next level.
Which Wine goes with Pasta: Basic Rules
Before we turn to the various pasta dishes and their ideal wine pairings, it is important to note some basic rules for pairing wine with pasta:
Acidity: A wine with some acidity can help balance the fat in a rich sauce and enhance the flavor of the dish.
Body: The body of the wine should generally match the weight of the pasta dish. Light wines go better with lighter dishes, while heavier wines go better with heartier dishes.
Regional Matches: Often wines from the same region as the pasta dish go best with it. For example, Italian white or red wines usually go well with Italian pasta dishes.
Pasta with Tomato Sauces
Classic Tomato Sauce
With a classic tomato sauce, as used in spaghetti Bolognese a real ragù alla Bolognese with tagliatelle*, it is recommended to reach for a red wine. The wine should not be too full-bodied, but may have a present acidity to correspond particularly well with the tomatoes, such as a fruity Pinot Noir. If you want to stay true to the land of pasta, go for a Chianti or Chianti Classico.
Chianti
Valpolicella
Barbera
Mediterranean Tomato Sauce
With a Mediterranean tomato sauce, for example, combined with powerful herbs and vegetables such as peppers, eggplant or sautéed meat and olive oil, a young red wine with pleasant acidity and fruit goes well with it. An example would be an Italian Primitivo or a German Spätburgunder / Pinot Noir.
Primitivo
Pinot Noir
Zinfandel
Pasta with Creamy Sauces
Light Cream Sauces
For lighter, creamy pasta sauces, such as tagliatelle* with veal or sautéed fish fillet, a white wine is a good choice. A Pinot Blanc or a fuller, more mature Riesling can complement the flavor of the dish well in this case.
Pinot Blanc
aged Riesling
Chardonnay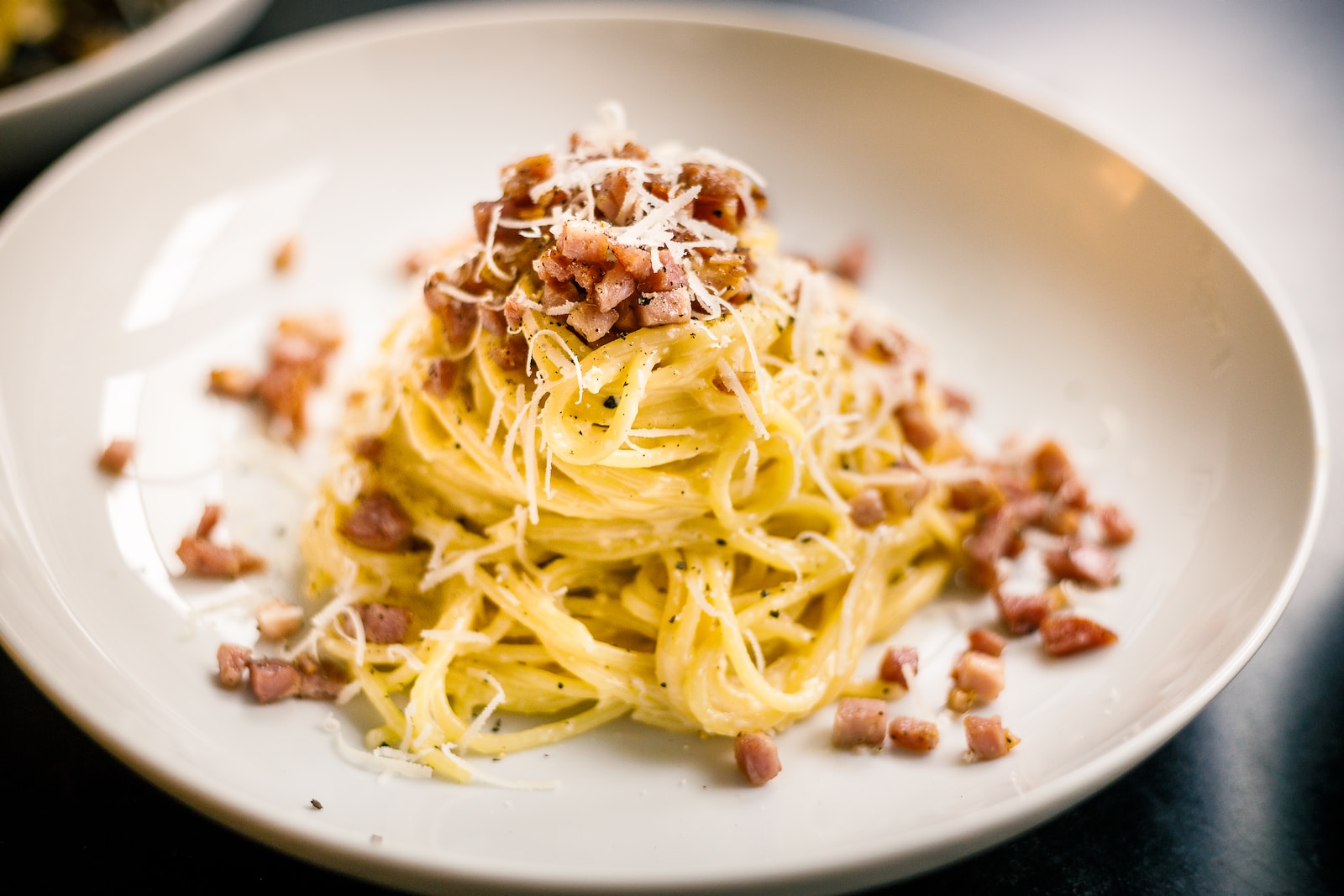 Pasta Carbonara
Although classic Spaghetti Carbonara contains bacon (guanciale*), a white wine makes a great accompaniment to this Pecorino Romano* / Parmesan and egg-influenced sauce. Chardonnay often comes with a creamy mouthfeel, making it a perfect partner to carbonara. Because of the aromatic bacon, the wine can be quite strong.
full-bodied Chardonnay
Vermentino
Trebbiano
Pasta with Pesto and Olive Oil Based Sauces
Classic Pesto
The classic Pesto Genovese consists of basil, pine nuts, olive oil and Parmesan. This dish is best served with a white wine with herbaceous notes, such as a delicately spicy Sauvignon Blanc, a mineral Silvaner or a delicately fruity Elbling.
Sauvignon Blanc
Silvaner
Elbling
Spaghetti Aglio e Olio
Spaghetti Aglio e Olio is a simple but incredibly delicious Italian pasta dish made with virgin olive oil, crushed or finely chopped garlic cloves and black pepper. This dish goes well with a fresh, fruity, comparatively light-bodied white or rosé wine that ideally brings some minerality and some acidity. A Lugana, a Pinot Blanc or a light rosé would be good examples here.
Lugana
light-bodied Rosé
Pinot Grigio
Gratinated Pasta Dishes
For baked pasta dishes such as lasagna, cannelloni or tortellini al forno, the wine selection depends on the dominant components of the filling and sauces as well as the type of cheese used. Italian red wines with a medium-body are equally an option as the sparkling Lambrusco.
Sangiovese
Montepulciano
Lambrusco
Pasta with Vegetables
Pasta with vegetables offers an incredible variety of flavors and a wide spectrum of aromas. These dishes are best served with fresh white wines or delicate rosés that complement the flavor of the vegetables without overpowering them. A fresh Pinot Blanc, a fuller-bodied Auxerrois, or a balanced Chasselas are equally elegant and appropriately restrained white wines here, with present fruit but no overpowering aromatics.
Pinot blanc
Auxerrois
Chasselas
Fish and Seafood served with Pasta
Pasta with fish and seafood should be served with a white wine, which gives freshness to the pasta dish. Here, too, you can stay in the wine country of Italy: A Pinot Grigio with a good acid structure fits perfectly.
Pinot Grigio
Sauvignon Blanc
Verdicchio
Pasta with Cheese Sauce
Cheese sauces can have different flavor profiles depending on the type of cheese and how it is prepared. In many cases, a white wine with a distinctive acid framework is a good choice to accentuate the savory flavors of the cheese. A Chardonnay, Pinot Blanc or Sauvignon Blanc can harmonize well here. For hearty cheeses, a red wine such as a Garnacha can also be considered.
Chardonnay
Pinot blanc
Garnacha
Sparkling Companions: Sparkling Wines as an Exciting Alternative for Your Pasta
When choosing the right wine for your pasta dish, don't overlook the world of sparkling wines. A sparkling Prosecco* or Champagne can be an excellent complement to many pasta dishes and add a special touch to the dining experience. A creamy Alfredo pasta or a dish of creamy seafood, for example, can benefit perfectly from the freshness and lightness of a well-chilled Prosecco. But a stronger, dry sparkling wine, such as a Blanc de Noirs Champagne, can also be an excellent choice with scalloped pasta dishes or pasta with a hearty cheese sauce.
Prosecco Spumante
German Sekt
Cava
A Sweet Counterpart: The Harmony of Sweet Wines and Spicy Pasta Dishes
Away from the dry wine segment, there is also a wide range of sweet wines that can be an excellent match for certain pasta dishes. Especially with hot or spicy dishes, such as a pasta arrabbiata, a sweet wine can pleasantly balance out the heat and provide a harmonious flavor combination. A slightly chilled, sweet white wine, such as a Gewürztraminer or a semi-dry Riesling, can be wonderfully refreshing here and provide an exciting counterbalance to the spiciness of the dish.
Gewürztraminer
Moscato
Sauternes
Wine for Cooking Pasta
Wine is a good choice not only as an accompaniment to the finished pasta dish – it can also enhance the flavor of the sauce and the dish as a whole when cooking. Red wines, especially those with strong flavors, can be used in a bolognese sauce, for example. White wines can contribute a fresh note to fish or vegetable sauces.
Discover Your Very Personal Wine-Pasta Combination
Finally, I would like to emphasize once again that the perfect wine-pasta combination is very subjective and depends on your personal preferences. The recommendations mentioned here are only meant to serve as a guide. Ultimately, the best wine to pair with pasta is the one that tastes best to you personally. Therefore, don't hesitate to try different wines and discover your very own favorite combinations. Wine and pasta offer an almost infinite variety of possible pairings – give free rein to your love of experimentation and enjoy the culinary journey!
Wine with Pasta: The Sauce is Crucial for Choosing the Right Wine!
Pairing wine with pasta requires a certain understanding of the aromas and flavor profiles of different wine varieties and pasta dishes. Basically, the wine should complement the pasta dish without overpowering or dominating it. It's worth trying different combinations to find your personally preferred wine pairing. However, with the recommendations presented here, you are well prepared to enjoy the next pasta dish with the right wine.