Gewürztraminer is the best known variety of Traminer and one of the oldest varieties that are still grown economically today. The low-acid and mostly residual sweet wine is perfect for fans of aromatic white wines. It got its name because of its spicy aromas reminiscent of musk, lychee, roses as well as grapefruit. In blind tastings, the first two are considered sure indicators of having a Gewürztraminer in the glass. Despite the high residual sweetness, his wines often have an alcohol content of 13%-vol and higher.
One of the 18 classic noble grape varieties, Gewürztraminer has the potential for great wines. Nevertheless, Gewürztraminer ekes out an existence in the shadow of more successful white wine varieties such as Riesling, Chardonnay or Sauvignon Blanc. In 2015, only 1,097 ha were planted with the grape variety in Germany. In terms of the total area planted with white wine varieties (2019), this is only 1.59%. The low prevalence is due to the high demands of the grape variety and its susceptibility to crop failures caused by weeping. The variety is most common in Alsace, South Tyrol and the USA.
Thanks to its role as an underdog grape variety, Gewürztraminer offers an excellent price-pleasure ratio. Great and highly complex wines can already be found in the range around 20 €.
The most frequently asked questions about Gewürztraminer
Reading long articles is not your thing or you simply lack the time? No problem! In this section you will find the answers to the most frequently asked questions regarding the grape variety.
What is Gewürztraminer?
What is Gewürztraminer? Gewürztraminer is a rare white wine grape variety and an aromatic variant of Traminer. With its strong aroma, it is one of the bouquet grape varieties. The grape variety is also known as Roter Traminer, Gelber Traminer or Klevner (Baden). In Italy it is called Traminer aromatico.
What is the shelf life of Gewürztraminer?
Most wines are produced for direct consumption and should not be stored for more than 1 to 2 years. High-quality dessert wines from the grape variety, on the other hand, have considerable storage potential and can easily spend several decades in the cellar and benefit from such bottle aging.
How to drink a Gewürztraminer?
Dry and simpler Gewürztraminer are excellent companions to aromatic dishes. The more exclusive residual to noble sweet variants also work easily on their own as solo wines. Vinified as a sparkling wine, the grape makes an interesting pre-dinner aperitif. The optimal serving temperature for high-quality(!) wines is 8° to 11° Celsius.
How does Gewürztraminer taste?
The typical Gewürztraminer is vinified from residual sweet to noble sweet and has an intense and for the grape variety exemplary play of aromas of musk, lychee and rose. On the palate, his wines are full-bodied, rich in extract and have little acidity, which is why they are often described as mild.
Is Gewürztraminer always sweet?
No, don't worry! It is also available as a dry wine. However, the classic version is a semi-dry to noble sweet.
Which glass do you use for wine?
Dry varieties are best served in a white wine glass or universal glass. The noble sweet drops are mostly served in a dessert wine glass. The small and narrow tapered goblet of these special glasses enhances the strong sweetness and aromatics of the wine.
Which cheese goes well with Gewürztraminer?
Especially suitable Munster and blue cheese.
Where does the Gewürztraminer come from?
Originally, the grape variety seems to come from southeastern Europe or Egypt. However, the exact origin is not yet known. Today you can find him mainly in his adopted home, Alsace or South Tyrol. In Tyrol, the cultivation of the grape variety has been documented by historical sources for over 500 years.
When to drink Gewürztraminer?
Its spicy aroma makes it one of the few white wines that can be enjoyed even in the winter months. In the USA, Gewürztraminer is the absolute classic at Christmas thanks to its aromas.
Intense and expressive: the character of a Gewürztraminer
Opinions are divided on this grape variety. Either you love it and henceforth belong to its sworn fan community – or you find it awful. So far, I have not met a wine drinker who did not sway to one of the two extremes.
Wines of the grape variety are characterized by their strongly perfumed, exotic bouquet, richness of extract and high alcohol content. The most common variant of the wine is a residual sweet to noble sweet vinification. Despite their residual sugar content, the wines have an exceptionally high alcohol content for a white wine. It is not uncommon to find a noble sweet Gewürztraminer with 12.5% vol. Alcohol over the way. This characteristic is due to the ability of the grape variety to produce and store large quantities of sugar in its grapes. Another typical characteristic of the grape variety: it has little acidity, so it is often described as gentle and likes to show a slightly bitter note on the finish, reminiscent of bitter orange.
The high quality and noble sweet varieties are excellent as dessert wines and have good storage potential. However, most Traminers are made for quick consumption and want to be drunk within two years.
To develop its full aroma, you should serve Gewürztraminer between 8 to 12 ° C. However, it may be advisable to pour the wines at 3 to 5 °C. The cooler drinking temperature pushes its sweetness into the background, while its acidity is better accentuated, resulting in a more balanced taste in individual cases. You should never pour a Gewürztraminer with a high alcohol content too warm, as this will bring the alcohol to the fore and make the wine seem fizzy.
Gewürztraminer is mainly used for aromatic still wines. However, some winemakers have discovered its potential as a sparkling and fortified wine. As a sparkling wine or crémant, the grape variety sets itself excellently and offers an interesting alternative to the classic champagne as an aperitif.
Musk, lychee & rose: this is what Gewürztraminer tastes like
Gewürztraminer is easily identified by its intense and distinctive scent of musk, lychees and roses. How prominent its aromas appear depends largely on the time of harvest and the degree of ripeness of the grapes. In order to develop their typical Traminer aroma, the grapes must have optimal ripeness and must be harvested neither too early nor too late.
[wpdatachart id="2″]
Flavors you'll find in a Gewürztraminer:
Musk
Lychee
Rose petals
ripe pineapple
Grapefruit
Marzipan
Honey
Violets
Kumquat
Passion fruit
On the palate, his wines are rich in extract, full-bodied and with an extremely mild acidity. Because of its mild acidity, sweet varieties like to be served between 3° to 7° Celsius to achieve a more harmonious balance between the high sweetness and low acidity. However, you should always enjoy high-quality wines (whether dry or sweet) at about 10 °C (+/- 2 °C) to experience their full spectrum of aromas.
Foodpairing: What foods go well with Gewürztraminer
Thanks to its intense, spicy and aromatic character, Gewürztraminer needs an equally strong dish as a partner. Intense curries, Moroccan tajines or robust terrines are perfect examples of dishes that stand up to a Gewürztraminer.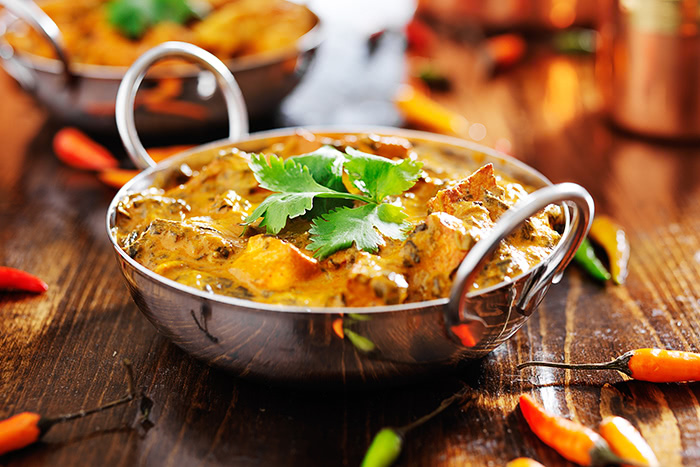 These dishes are suitable for Gewürztraminer
Indian curries
Moroccan dishes
Blue cheese
Munster
Terrines
Wild
Poultry
aromatic fish dishes (e.g. salmon)
intense and acidic desserts
A diva among white grape varieties and in the vineyard
The grape variety prefers cooler and temperate climates such as in South Tyrol or Alsace. In warmer growing regions, the grape variety would lose too much of its already weak acidity, while the sugar content of the berries would shoot through the roof. In temperate regions, on the other hand, the fruits retain more of their acidity and form less sugar. The cooler climate also gives the grapes the ripening time they need to develop their flavor profile to the fullest. In warm areas, the vine produces enormous amounts of sugar, while at the same time reducing acidity and ripening so quickly that its berries do not develop their full flavor.
In the vineyard, the grape variety presents the winemaker with various challenges. Gewürztraminer is particularly fussy about the soils in which it grows and does not tolerate calcareous substrates. Due to its early budding, the plant is also sensitive to late frosts and is also considered susceptible to various plant diseases.
As for the climate during the fruiting stage, it requires warm and dry summer months, which should not be too hot. At night, the grape prefers cooler temperatures to maintain acidity in the berries.
In hot growing regions such as Australia and California, the grapes must be harvested early, otherwise little acid remains in the berries. However, this early harvest gives the vine too little time to develop its varietal aromas in sufficient quantity. The result is dull and bland wines lacking power and complexity.
Gewürztraminer is commonly considered a bitchy grape variety. The vine is known for its annually fluctuating yields and has a high tendency to trickle. Even without artificial yield reduction by the winemaker, the vine therefore produces less than half of the permitted yield per hectare in most years.
Alsace: the adopted home of the Gewürztraminer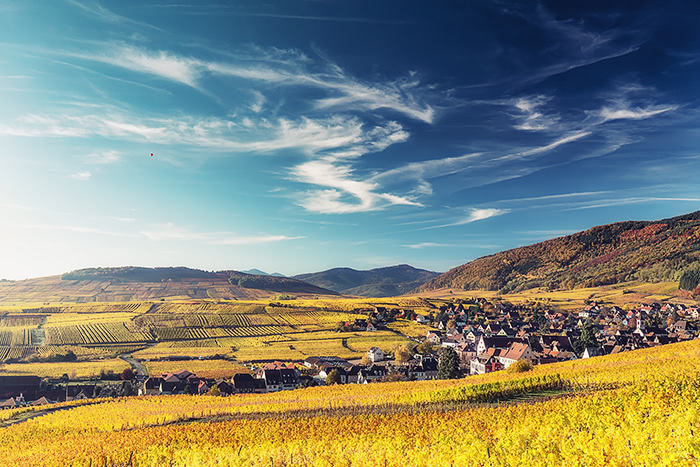 The most famous growing area for the grape variety is Alsace (France). From here come some of the world's best Gewürztraminer. The continental and cooler climate of the region gives the plant enough time to develop its flavors. Due to the colder night temperatures, the grapes retain much of their acidity. Gewürztraminer from Alsace are mostly highly aromatic, complex and full-bodied wines that exude an exotic bouquet as soon as they are uncorked.
In Baden, the Gewürztraminer grape variety is known as Klevner (Clevner).
Small but fine: Cultivation in Germany
However, lovers of dry wines must now take a deep breath. Although dry wines from Alsace can also be found, most wines are produced from semi-dry to noble sweet.
In Germany, historical documents document the cultivation of Gewürztraminer back to the 16th century. While historical sources suggest a strong distribution in the Rheingau, today the grape variety is found mainly in the Palatinate and Baden. With only about 1,100 hectares of vineyards, it accounts for only 1% of Germany's total vineyard area (red wine & white wine varieties). Therefore, one may call German Gewürztraminer a rarity.
South Tyrol: Tramin as the namesake of the grape variety
Another important growing area can be found in South Tyrol (Italy). More precisely: the region around the municipality of Tramin. From her the grape variety (Traminer) got its name. Here, wines have been made from Traminer grapes for over 500 years. The alpine climate and the special composition of the Traminer soils form the basis for Gewürztraminer from Tyrol with a strong character.
Australia and the USA
Also noteworthy growing countries are Australia and the USA. Down Under, the cooler growing regions such as the Adelaide Hills, Eden Valley and Tasmania deserve particular attention. While in the hot regions, the grape variety quickly matures into a low-acid and therefore bland sugar bomb and suffers due to the early harvest.
In the United States, the grape variety is found mainly in California, Oregon and Washington State.
Gewürztraminer the rare grape variety
Worldwide, just about 20,000 hectares are planted with Gewürztraminer. This makes it one of the rare grape varieties. The reason for its low prevalence is obvious. Its considerable demands on soil, location and climate make it difficult for winemakers. In addition, the unstable yields and the susceptibility of the variety to diseases are a double handicap. Above all, the strongly fluctuating yields make planning reliability enormously difficult. A risk that many wineries are not willing to take. In its original form, Gewürztraminer was particularly sensitive to various viral diseases. This trait has now been bred out by selecting strong, resistant clones.
Origin and history of spice traminer
Traminer, to which Gewürztraminer belongs, takes its name from the Italian municipality of Tramin in South Tyrol. Sources document the use of Traminer grapes for the production of fair wines back to the 16th century. Individual historical documents even suggest that Traminer has been grown here since the 11th century.
The exact birthplace of the grape variety is not proven beyond doubt to this day. However, its origin is thought to be in southeastern Europe or Egypt. Some researchers, on the other hand, consider Greece to be the real birthplace of Traminer.
Gewürztraminer was first mentioned under its current name in 1827 by the German botanist Johann Christian Metzger as a rare variety from the Rheingau region. Traminer is one of the oldest grape varieties still used economically for wine production in modern times.
Image source Cover © German Wine Institute (DWI)