Merlot is the most popular red wine variety in the world after Cabernet Sauvignon. The grape originated in Bordeaux, but today it is successfully grown worldwide. It is a natural cross between Cabernet Franc and Magdeleine Noire des Charentes – an almost extinct vine. The grape variety provides the grapes for the most sought-after red wine in the world: the legendary Château Pétrus. Merlot is also one of the seven noble grapes.
Many wine drinkers appreciate Merlot for its gripping aromas of black cherry, plum, chocolate and vanilla. Its wines are considered particularly accessible and are therefore suitable even for people who otherwise prefer a white wine. Merlot is one of the basic wines for the famous Bordeaux cuvée.
Fruity and cuddly – This is what Merlot tastes like!
Merlot stands for fruity, full-bodied stunners with decent alcohol and aromatics reminiscent of pickled cherries. Wine connoisseurs are all too happy to describe this profile as "marbled". And by all means, the wines often possess a bouquet reminiscent of boiled-down Furcht jam.
Merlot handling
Serving temperature: 15 to 19 °C
Glass: Bordeaux glass
Caraffing: Yes (30 to 60 minutes)
Shelf life: 15+ years
Typical aromas of the grape variety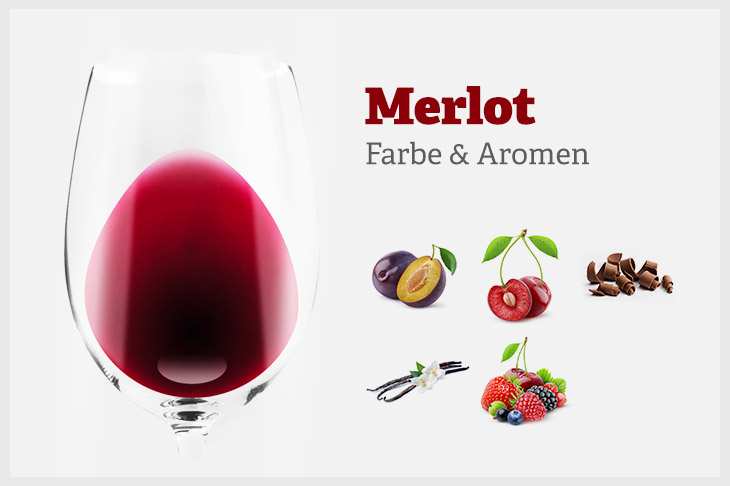 Black cherry
Blackberries
Black currant
Raspberries
Plums
Dark chocolate
Vanilla
Oak
Merlots from colder growing regions tend to have earthy and phenolic notes that are easily mistaken for a Cabernet Sauvignon in a blind tasting. The cooler temperatures slow down grape ripening, which is why the wines have less body. In general, Merlots from such regions are considered more delicate, complex and enjoy greater popularity than their siblings from warmer climates. Examples of aromas of a Merlot from cooler wine regions (eg Bordeaux):
ripe fruits (raspberries, cherries, plums, cassis and blueberries)
earthy notes (forest floor, wet tobacco, dark chocolate, coffee, truffle).
phenolic notes (bay leaves, black pepper, peppermint)
Wines from the warmer regions are easy to recognize. These are fruity, plump stunners with noticeably more tannins and alcohol. They are usually aged in small (e.g. barrique) to medium wooden barrels. In them, the wines acquire their typical barrel notes: Vanilla, caramel and cedar. A few examples of flavors found in a Merlot from warmer wine regions (e.g. California, Argentina and Australia):
overripe to jam-like fruit (plum, black cherry, blackberries, raspberries)
phenolic aromas (green bell pepper, tomato green)
spicy notes (vanilla, cinnamon, allspice, cedar)
earthy hints (dark chocolate, viscous mocha)
From cheap to sinfully expensive – A grape variety between two worlds
Merlot does not make high demands on its soils, for this reason it grows almost everywhere and is considered to be particularly productive. These characteristics, along with its pleasing flavor profile, please many large-scale producers of inexpensive mass-produced wines. These wines are later found mainly on the shelves of discount stores. Nevertheless, the red grape variety bears its cheap wine image unjustly.
With the selection of the right soils, a consistent yield reduction and elaborate hand harvesting, the Merlot has the potential for great wines with world renown – like Château Pétrus. Between a Merlot from the supermarket and a 2015 Pétrus are therefore not only price worlds. A real tip is the 2013 Super Substance Northridge Merlot from Wines of Substanze (USA, Columbia Valley) for around €60.00 (as of August 2020). Jeb Dunnuck describes the wine for his then employer Robert Parker Wine Advocate as: "[…] a serious effort reminiscent of a top class Pomerol. […]" and awarded it 94/100 points. By comparison, the 1987 Château Pétrus, also rated 94 points, currently (August 2020) costs around €2,750.
The "socializer" among wines – Merlot as a cuvée partner
Merlot is considered the perfect blending partner for otherwise difficult-to-access wines. Even small amounts of Merlot are enough to refine a bulky Cabernet Sauvignon, for example, and round out the wine's character. An absolutely varietal Cabernet Sauvignon otherwise needs decades until it starts to shine properly in the glass.
The Merlot as a food companion
Merlot is considered a true all-rounder and goes well with a wide variety of dishes. However, its flavor profile makes it an excellent accompaniment to grilled or braised beef or roasted game. You definitely won't go wrong with a Merlot at your next barbecue.
These dishes are eaten with Merlot?
Pizza
grilled chicken
roasted poultry (goose, turkey)
Ratatouille
Beef (e.g. steak)
Saddle of lamb
Roast veal
Braised dishes
9 Facts about Merlot
Merlot is the most planted grape variety in France. Worldwide, it ranks second among the most cultivated grape varieties.
The name "Merlot" translates as "little blackbird".
Its low tannin content makes it attractive to wine drinkers who otherwise prefer white wines. This earned him his English nickname, "Easy Red."
Merlot is used to make Château Pétrus, one of the most sought-after wines in the world. Even in bad years, such a bottle costs more than €2,000.
Merlot is one of the three red noble grapes, along with Cabernet Sauvignon and Pinot Noir.
Merlots from colder climates (e.g., France) produce graceful, leaner wines with more tannin and herbal, earthy flavors.
A warmer climate (Australia, Argentina or California) makes for lush and alcohol-rich wines with less pronounced tannins.
Merlot is a perfect companion for roasted and grilled beef, lamb and duck.
Due to its fruity aroma, Merlots appear somewhat sweet, although it is almost exclusively vinified dry. This makes it accessible especially for beginners.
The movie Sideways, released in 2004, put the grape variety in a bad light. In some cases, therefore, winegrowers tore their Merlot vines out of the vineyards and replaced them with more popular wine varieties.
Origin and history of Merlot
For a long time the origin of the grape variety was considered ambiguous. Recent DNA studies revealed that the birthplace of Merlot is in Bordeaux, where it remains the most popular grape variety today.
It is a natural cross between Cabernet Franc and Magdeleine Noire des Charentes. The latter was considered extinct for a long time and was rediscovered by chance in 1992. It was only in 2009 that the University of California, Davis discovered through DNA analysis that it was the previously unknown of the two parent vines of Merlot.
Requirements for the soil, the climate and the winemaker
Merlot grows almost everywhere. The grape variety makes few demands on its soil and thrives in both colder and warmer to hotter regions with high yields. This undemanding nature makes them so popular with large-scale producers. At the end of the year, their tanks are full of wine, which they can sell in bulk to discount stores.
The situation is different if you want to produce top class Merlots. The sandy gravelly soils of Bordeaux, underlain with ferruginous clay, are considered the perfect base for a world-class Merlot. The precious Merlot vines of Château Pétrus grow on exactly such soils.
Early budding increases susceptibility to frost damage
Since the grape variety buds early, late spring frosts pose the greatest threat to the health of the plant. The effects of such frost periods can be observed in Bordeaux: In years with severe cold snaps, the harvest is so poor that in some cases no Merlot is produced. However, this disadvantage becomes noticeable as an advantage in good vintages. Its early budding allows the Merlot grapes to be harvested earlier. Wet and cold autumn months are therefore less problematic for the winemakers, as the Merlot was already harvested in late summer.
Thin berry skin harbors susceptibility to disease
Their thin-skinned berries are the secret to the accessibility of their wines, as less tannin enters the wine from them. However, this advantage is bought by a higher susceptibility to various diseases. Thus, the berries are more susceptible to Botrytis cinerea (gray mold rot). To prevent this, the winemaker has two options: An elaborate foliage pruning, so that enough air always circulates around the sensitive berries, or an intensive use of plant protection products.
Due to the high amount of work involved in foliage cultivation, which must be carried out by hand, it is only considered for top wines. Producers of discount wines have to work with pesticides and fungicides for cost reasons. The thin skin also makes the berries more susceptible to hail and feeding damage (e.g. by wasps).
Top wines only possible through yield reduction
Under good conditions, Merlot is considered a high-yielding grape variety. What is a reason to rejoice for mass wine producers means considerable extra effort for wineries aiming at top wines. The golden rule in viticulture is that the fewer grapes a vine has to care for, the more energy the vine can put into caring for them and the better the later wine will be. The winemaker must therefore cut out a large part of the unripe grapes in early summer. If you want to learn more about this, we recommend you read the article about the quantity-quality law in viticulture.
Naming and first mention in documents
The oldest known mention of Merlot dates back to the 14th century. At that time, the grape variety was still known as Crabatut noir. Under its present name, the vine has been known at least since the end of the 18th century, when it was already considered one of the most important varieties of Bordeaux.
The name Merlot is derived from the French word for blackbird (frz: merle). The birds are said to have a preference for the small and particularly sweet grapes of the variety. Another story says that the black and blue berry skin – reminiscent of the plumage of birds – helped Merlot get its name. Which one, and whether either legend is true, will probably never really be clarified. However, they both sound plausible.
The Sideways Effect – How Hollywod brought Merlot into disrepute
Already in the 1990s, Merlots from the New World – especially Napa Valley, USA – had fallen into disrepute among wine critics. They were considered uninspired, chubby-sweet wines for an audience that was more into their intoxicating effects rather than enjoying the quality of a wine. The main thing is that it turns and does not taste like it. For this reason, the price of Merlot fell consistently from the early 1990s and only recovered 10 years later – albeit only slightly. To this day, the price per ton for Merlot is not comparable to its heyday in the 1970s to 1980s.
When the movie Sideways hit theaters in 2004, Merlot also fell into disrepute with the general public. The reason: a line of text by Miles Raymond (played by Paul Giamatti). "No, if anyone orders Merlot, I'm leaving. I am not drinking any fucking Merlot!" This quote went around the world and overnight made Merlot synonymous with inferior red wines.
No, if anyone orders Merlot, I'm leaving. I am not drinking any fucking Merlot!

Miles Raymond
However, the effect of the film is generally overestimated. When Sideways hit theaters in 2004, the price for Merlot was already at an all-time low. Although the price per ton continued to fall even after the film; compared with the price drop from 1990 to 2004, this price decline was rather negligible.
Merlot – Merlot also goes in horny, but not cheap!
I have never thought much of "general opinions". If you like jammy fruit bombs that hug you and wrap around you like a fluffy blanket, you'll feel right at home with a good(!) Merlot. And quite honestly: Sometimes you want to be taken in the arm. Therefore, my advice is to disregard the opinion of wine snobs and drink what you enjoy. Even the biggest Merlot haters wouldn't say no to a Pétrus just because it's a Merlot.