What wine with raclette? It's a question that almost everyone asks themselves at least once a year – usually at Christmas or New Year's Eve. The possible variety at the raclette dinner sometimes makes the wine selection difficult. A vegetarian version with mild cheese goes with a completely different wine than spicy cheese with lamb or beef. And then shrimp or fish are often found in the dish and the confusion is complete. For this reason, I have taken a closer look at the topic of "The right wine for raclette" in this article and show you how you can find the right wine for your next raclette with simple means.
The right wines to go with raclette: first things first
Of course, with the right wine accompaniment there are certain rules that should be followed. But the number one rule is: don't drink a wine you don't like just because it "technically" goes with the food. If you absolutely do not like Chardonnay with wood influence, then you will not find a food with which you like this wine. Therefore, the rule: Always accompany your meal with appropriate wines that you would enjoy even without food.
The same principle applies to choosing the right wine for any occasion. When you choose a wine, it must not only match the food, but also your taste.
The cheese sets the tone
No raclette without cheese and real fans do not rely on only one type of cheese. A spicy cheese needs a different partner than a light one. The classic is clearly the Valais Raclette. This raw milk cheese is produced exclusively in the canton of the same name, Valais, matures for at least 3 months and must have a fat content of over 50% fat in dry matter.
The word raclette comes from the Valais dialect. There, the word "racler" translates as "to scrape" and refers to the original way of preparing raclette in the Swiss canton of Valais, where a whole wheel of cheese was heated over a wood fire or with the help of a raclette oven and then scraped.
However, thanks to the wide distribution of the dish, other cheeses are sometimes found in the small pans. From mild mozzarella to spicy Roquefort, I've found pretty much every type of cheese to be a part of a raclette meal. Therefore, the choice of the right wine depends largely on what cheese you use and what ingredients are found in your pans.
In the following part, I therefore go into the appropriate wines for different styles of cheese. However, in order not to let the matter get out of hand, I will limit myself here to certain basic styles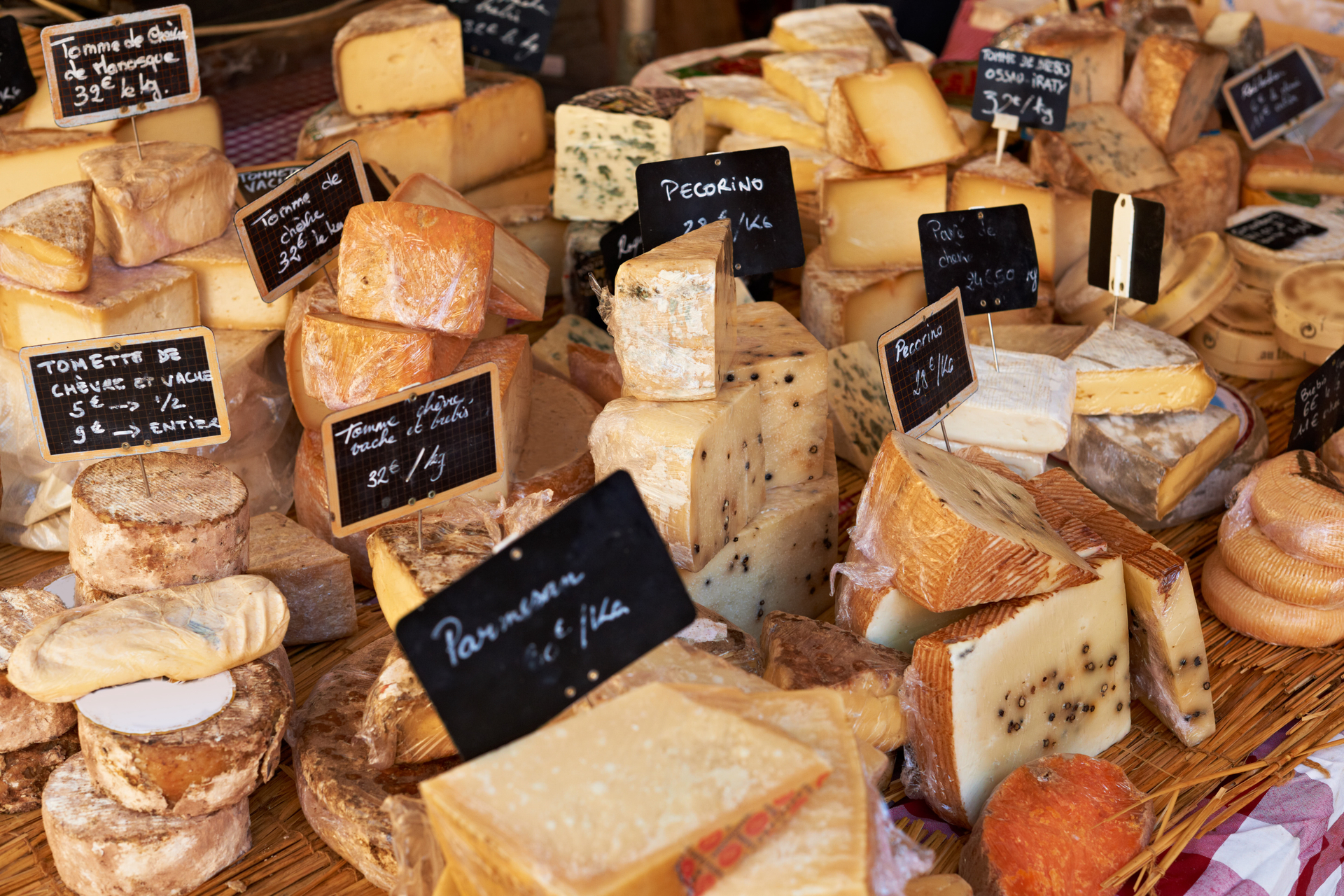 A little tip beforehand
With raclette, almost never fits only one wine for all the ingredients on the table. If you really want to have the right wine on hand for each combination, you'll usually need 2-3 bottles, or you'll narrow down your ingredients to fit the exact wine you choose. However, I consider the latter to be far too restrictive and let's face it: at a raclette evening with friends or family, 2-3 bottles of wine are gone faster than expected.
The most popular raclette grills
Preis inkl. MwSt., ggf. zzgl. Versandkosten / Letzte Aktualisierung am 2023-11-18 / Affiliate Links / Bildquelle: Amazon Product Advertising API
White wines – The right wine for the classic raclette
Whether the classic white bread, vegetables, poultry or fish, here is clearly a white wine to accompany your raclette meal. Fruity, light white wines with plenty of acidity are excellent. Its elegant flavor harmonizes perfectly with the nutty flavors of raclette cheese without dominating them, and the fresh acidity in the wine cuts through the fat and refreshes the palate. White wines are also a better choice for raclette with white meat. If you want to stay in Germany in terms of wine, a Gutsriesling or a fruity Silvaner is the best choice. If you want to be really traditional, go for the typical Swiss Raclette wine, the Gutedel or Chasselas, as the grape variety is called in Switzerland.
Riesling
Raclette cheese harmonizes well with the high acidity and fruit flavors of Riesling thanks to its high fat content and subtle aromas. The high salt content in the cheese even makes it possible to reach for a semi-dry Riesling such as a Kabinett from the Rheingau or Moselle.
Silvaner
If you can't see Riesling anymore or want to surprise your guests for once, serve a Silvaner from the Rheingau or Rheinhessen with the classic Raclette. The high acidity goes perfectly with the fatty and salty cheese, while the subtle flavors complement those of raclette.
Muscadet
With its crisp acidity and citrusy mineral flavors, Muscadet makes an incredibly good raclette. This variety is especially suitable if you are looking for mild varieties in your cheese selection. If you find highly aromatic components in your raclette, you should choose more aromatic wines.
Chasselas – Swiss standard with raclette
In Switzerland, the question of which wine to serve with raclette does not arise at all. The answer: Chasselas, as the grape variety is called in Switzerland. Thanks to its taut acidity, it literally cuts through the high fat content of the cheese and leaves a refreshing impression. Bone dry with elegant aromas of apples, pears, melons and herbs, Chasselas is an excellent choice for a classic raclette with mild cheeses and unobtrusive accompaniments.
Pinot gris
Fans of the Pinot Gris do not have to do without it even at raclette. However, I would steer clear of the heavy bullets from Baden or Alsace. Due to the warm temperatures, the grape variety here produces quite low-acid wines and aromatic wines that can not compete with the fatty cheese. I would prefer a Pinot Gris from the Palatinate, Rheinhessen or the Rheingau. Here you will often find a light, fruity style that is more suitable as a wine accompaniment to raclette.
Grüner Veltliner
Grüner Veltliner is Austria's answer to Riesling and is just as perfect as a wine to go with raclette. Its cracking acidity glides through the fat in the raclette cheese like a sword, and its subtle flavors of gooseberry and white pepper complement those of the cheese well without dominating them.
Sauvignon Blanc
Sauvignon Blanc is also known as a favorite of restaurateurs and makes a great wine with raclette. Above all, those who prefer milder cheeses and are looking for a wine that is able to withstand the high fat content will find the Sauvignon Blanc to be the right companion. But beware: I would not recommend representatives aged in wooden barrels and very aromatic. Prefer a lighter version from the Loire, with green flavors of peppers and tomato greens. If you like it fruity look for a wine from New Zealand (Marlborough).
Champagne & Sparkling Wine
One of my absolute favorites with raclette are clearly sparkling wines. Its refreshing tingle refreshes the palate from the fat, making it ideal for melted cheese. And it doesn't always have to be champagne. Good vintner sparkling wines or Spanish Cava* are meanwhile in no way inferior to their French relatives and are often available at significantly lower prices. Here, the carbonation helps refresh the palate from the fatty cheese while the light yeast notes from the bottle fermentation integrate perfectly with the nutty flavor spectrum of the cheese.
Red wines with raclette – A meat question
To the classic raclette, which traditionally consists only of cheese and bread, most red wines are rather unsuitable. Their intense flavors would completely suppress those of the cheese and the lack of acidity would make it seem stale. The culprit is the high fat content in cheese. Here, red wine lovers are recommended rather light and acidic red wines such as Pinot Noir or Zweigelt.
However, if you prepare beef, lamb or even game on your raclette grill and want to accompany them with a suitable wine, you won't get far with a light red wine and would rather reach for somewhat fuller-bodied and more intense representatives. Here, an Argentinian Malbec or a fruity Merlot are conceivably good choices for those who love strong red wines.
Pinot Noir & Gamay
Those who prefer red wines definitely do not have to do without them at raclette. However, the wines should not mask the subtle cheese flavors and should have a healthy acid framework to keep up with the fat. Pinot Noir or Pinot Noir and Gamay are the appropriate red wines for raclette. Both grape varieties tend to grow in cooler regions and produce fruity, light red wines with little tannin.
Zweigelt
The most cultivated grape variety in Austria is known for light red wines with little tannin and high acidity. This makes Zweigelt an excellent alternative for those who can no longer see Pinot Noir or would like to enjoy a different wine with raclette.
Strong red wines to accompany raclette
If your raclette includes beef and lamb, a light red wine is usually not enough. For this reason, here are a few vines for those who do not want to give up red meat at raclette.
Malbec
Especially if you're enjoying lamb or beef with your raclette, a tannic Malbec will hold its own and not be dominated by the intense flavors of the meat. The high fat content of the cheese also ensures that the bitter impression of the tannins is kept in check. The grape, which originated in France, is now grown mainly in Argentina. In its old homeland it bears the name Côt.
Cabernet Sauvignon
Especially spicy cheeses, dark meats with roasted aromas and intense sauces are an excellent base for Cabernet Sauvignon.The grape variety, known for its high tannin content and nose reminiscent of green peppers, is one of the most widely grown grape varieties. I would not recommend wines from their French homeland with raclette. Their vegetal style is much less suitable for the world of flavors in raclette than the more fruity representatives from Australia.
Merlot
Its fruity taste, full mouthfeel and velvety tannins make Merlot a real crowd pleaser. It has enough strength to take on red meat and has enough acidity and alcohol to compete with the fat in the cheese as well.
Blaufränkisch
For many one of the best red wines in Austria is also excellent as a wine accompaniment to raclette. Full-bodied, dry, with gripping tannins and a fresh, fruity acidity, Blaufränkisch is perfect for lamb and beef on the raclette grill. The tannins are somewhat muted by the fatty cheese and the acidity refreshes the palate in a pleasant way.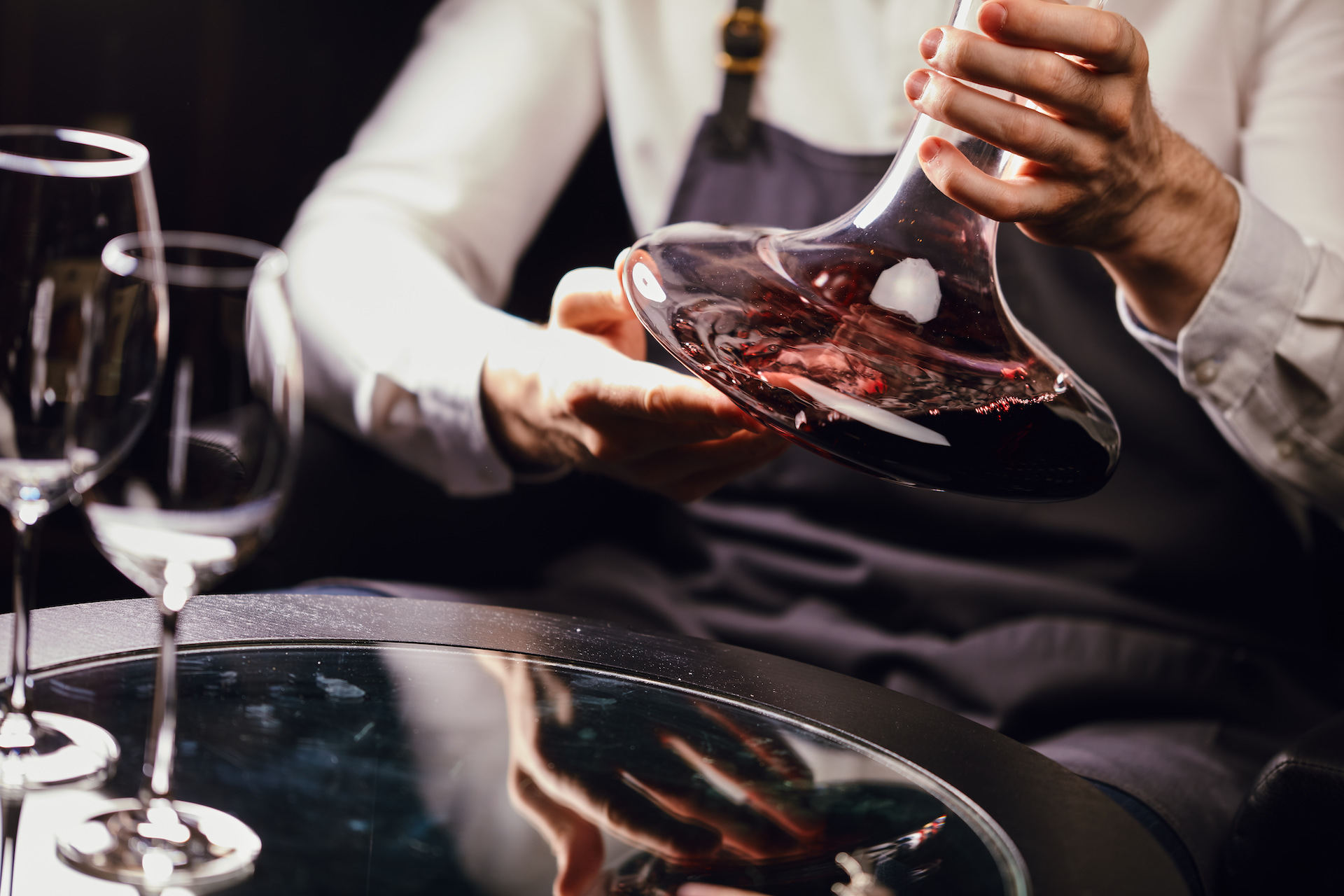 How to serve wine with raclette
Anyone who has ever made raclette knows that it is hot. For this reason, you should not place your wine right next to your raclette grill.
Even red wines are better served slightly chilled. The stove heats up even larger rooms quickly and in no time at all the refreshing sip in the glass becomes a warm, bitter-sour broth. A wine cooler or a Cooling cuff* do a good job here.
#
Preview
Product
Price
1
Beyond Flaschenkühler für Wein, Champagner und Sekt Flaschen I Doppelwandiger Edelstahl...

19,95 EUR

Bei Amazon kaufen*
2
Weinkühler, Weinkühlstab 3-in-1 aus Edelstahl - Schnelle Eiskühlung ohne Eis mit Belüfter und...
Bei Amazon kaufen*
3
GUHAOOL Weinflaschenkühler, Weinkühler Set, 7-in-1 Premium Weinkühlstab, Weinkühler Stab aus...

16,99 EUR

Bei Amazon kaufen*
4
CASO WineCase One Black - Design Weinkühler für eine Flasche, Temperaturbereich von 5-18°C, für...

109,99 EUR

99,99 EUR

Bei Amazon kaufen*
Preis inkl. MwSt., ggf. zzgl. Versandkosten / Letzte Aktualisierung am 2023-11-18 / Affiliate Links / Bildquelle: Amazon Product Advertising API
The right wine for raclette – The theory
Whether and which wines go with the food depends on some basic rules which are not only applied when looking for a wine for raclette. Everything relates to a few components and how they interact with each other. For this reason, we will briefly take a closer look at their interaction.
Salt in food require a wine with sufficient acidity. The wine should always have the same or more acidity in the impression than the food. Salty food also pairs well with residually sweet wines.
Tannin rich (bitterness) Wines call for sweet or fatty dishes. Fat and sugar keep the tannins in check and balance the wine.
Acidic foods need a wine with equal or more acidity, otherwise the wine will seem flat and boring. So if your raclette contains acidic components like pickles, the wine you choose should be able to stand up to them.
Fatty dishes (like raclette) need a wine with decent acidity or a lot of alcohol.
Sweet dishes benefit from acidity and should always be paired with wines that are even sweeter, otherwise the wine will seem flat and boring.
Alcohol makes wines stand up to fatty dishes and also helps balance the sweetness of a dish.
The list shown here is just a small glimpse into the world of Wine Pairing. A detailed article on the right wine accompaniment would go beyond the format of this post.
Often, raclette is found on the table an incredible variety of individual ingredients. To find a single wine that fits everything is often not possible. A classic raclette with cheese, bread and ham literally screams for a light and acidic white wine. This changes when beef or lamb are suddenly added.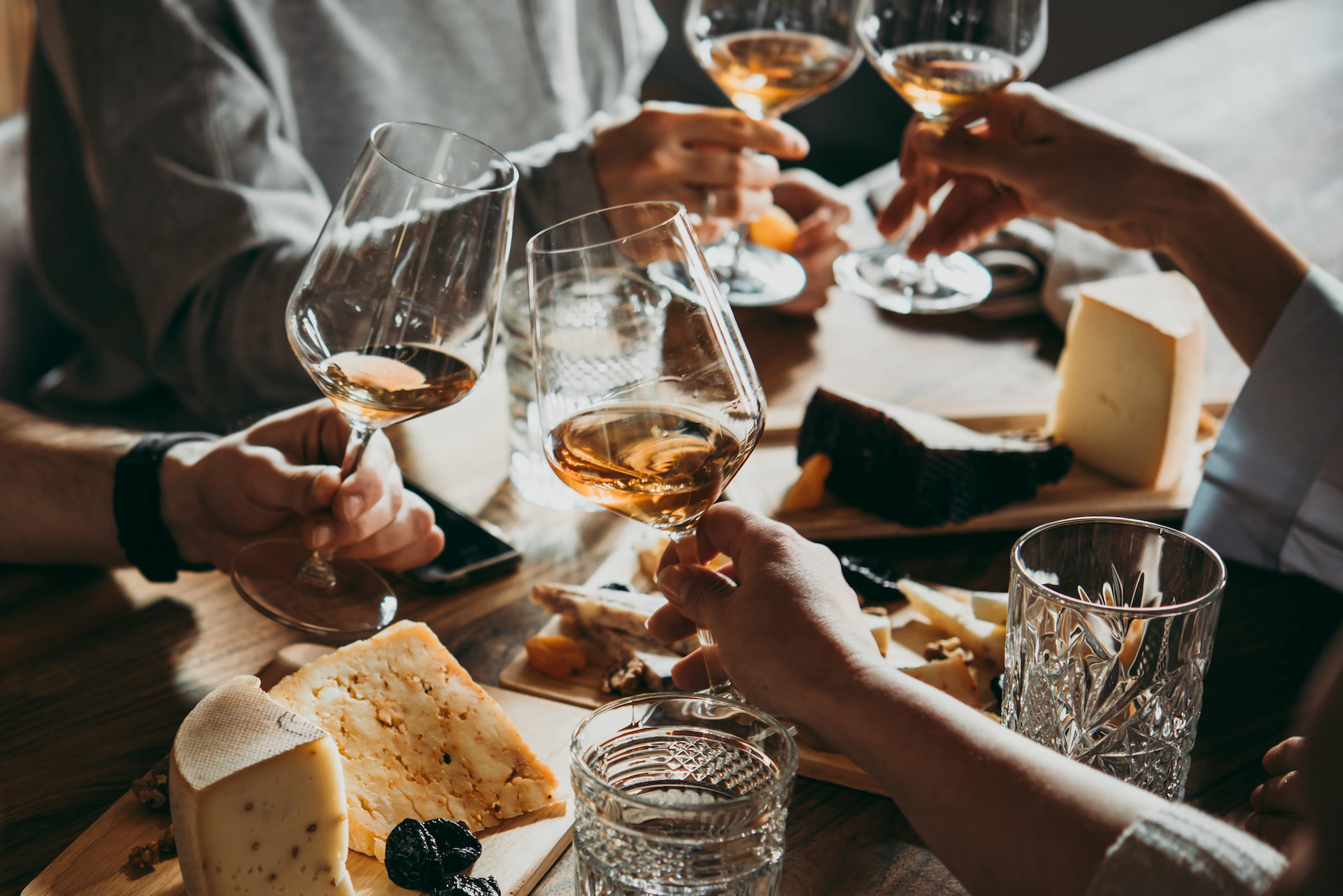 Conclusion – The best wine with raclette
You can make a science out of choosing the right wine to go with raclette, and there are certainly people who get a real kick out of searching for the one perfect wine to go with raclette. The fact is, which wine goes with your raclette depends mostly on the cheese you use and the side dishes. Classic with cheese and white bread: Grab a light, acidic and fruity white wine like Riesling or Silvaner. If there are aromatic meats on the raclette grill or if you use a well-matured cheese, a red wine is a better idea.
Personally, I would always serve two or three different wines with raclette. A light white wine for those who prefer to enjoy their patties with light cheeses, bread and vegetables and one that goes well with the meats served (usually beef or lamb). You'll rarely go wrong with a fruity Riesling and a Pinot Noir.